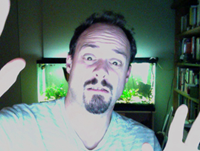 Welcome to my site! As you've probably figured out, my name's Ben Keen – I'm a web developer living in Vancouver, BC. That's me in the photo, which my wife describes as "not funny in the least" and "makes you look like a total idiot".
This site has changed an awful lot since the first version back in 1999, but its main purpose has always been to store and document my various open source work. These days I rely almost exclusively on github for this purpose, but I keep this site around as an infrequently updated blog, and a place to show off my birding photos.
Long live open source!
I'm an open source developer, first and foremost. Ideologically speaking, there's something fundamentally right about writing software that allows people to examine and change the source code to suit their own purposes. I'm not at all averse to closed source or making money, but it's just not something that holds a great deal of interest for me.
All my scripts are completely free, open source and found on github.
A little history
I've loved programming for as long as I can remember. When I was a kid, my dad brought home a 48K Spectrum along with a tape drive and a few games. I got hooked, fast – oh boy I loved that thing. Later, I got more into music and art and it wasn't until university that I returned to programming. Academically, I have Bachelor degrees in Music Composition + Theory, and Philosophy from the University of Victoria (BC, Canada). But it was during my philosophy degree I re-discovered programming – this time javascript and PHP – and decided to pursue it as a career.
These days I work as a web developer in Vancouver, working on open source projects in my spare time. Generally I work mostly in JavaScript and (god help me) PHP, but I've had plenty of experience with other languages. The last few years I've been focusing more and more on large-scale client-side architecture.