This was a small job I did for Vancouver Pro Musica, a local non-profit group, at the behest of a friend who sits on the board. I was familiar with Vancouver Pro Musica for over a decade due to their yearly Sonic Boom festival, held in Vancouver, BC. I had attended several of their concerts during my music degree at UVic and was quite pleased to be given the opportunity to update their site.
Vancouver Pro Musica was originally formed in 1984 as a group of local composers with a chamber ensemble-in-residence. After two years as a performing ensemble, the organization took a new direction and became mainly a presenter of contemporary BC music. By 1987, the first "Festival of Composers", now known as Sonic Boom, was initiated. Over the years, this annual festival has become not only the centrepiece of Pro Musica season, but also a fundamental catalyst for the development of emerging and experimental composers in British Columbia.
Due to the wide ranging requirements for the site, I picked Drupal as the content management system (CMS) as the main engine. Drupal is a highly extensible platform written in PHP and MySQL with hundreds of modules available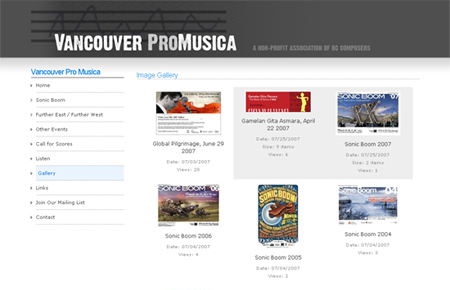 to let you do just about anything. There are many advantages to using Drupal over other solutions, but most importantly, it always leaves the door open for future expansion.
These were the features that were realized for the website:
Full content management through a simple UI
Options to upload PDF, MP3, images and more
WYSIWYG (What You See Is What You Get) editor to let the client add HTML code without actually knowing any HTML
Image Gallery
Streaming media (MP3)
Mailing lists (internal and public)
Contact Us page
RSS Syndication of articles
Archiving option to hide and catalogue old articles